New Book: Kids Picture Puzzles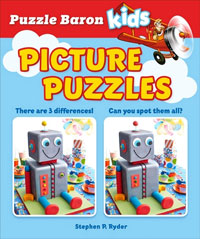 Spot the differences in all 90 puzzles!
Do you like a good challenge? Have you ever won a staring contest? Sleuth your way from the teacher's desk, to the basketball court, to the party table, in all 90 of these colorful puzzle scenes! Sharpen your pencil and get ready to use your detective skills in Puzzle Baron Kids Picture Puzzles.
Compare the original image on the left to the altered one on the right. Can you detect the subtle changes? Can you solve them all?
Mix it up with a wide range of kid-friendly puzzles — from easy as pie to irresistibly baffling, each puzzle will feature between 6 and 12 alterations.
Check your work against the visual answer key to see how observant you really are (or to cheat when the going gets tough!).
Inquisitive kids will be entertained for hours… just don't forget to blink!